Understanding Your Statement
---
Key Takeaway
Highlighted below are various sections of a sample participant statement. Sections may vary depending on the features available in your plan. For information regarding your specific plan, contact your plan sponsor.
 Download a Sample Statement (PDF)
1




Period

The date range for this statement period including your account activity for this calendar quarter.

2




Your Personal Rate of Return

The calculation is specific to your portfolio and reflects your return for the reporting period or from the date Alerus began servicing your plan, whichever is later.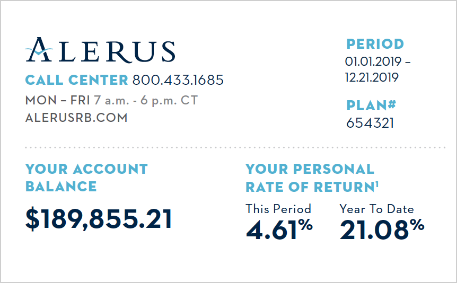 ---
3




Account Summary

Detail is for the date range listed; unless otherwise noted. The activity is for the quarter only and does not represent cumulative data. Vested Balance is the portion of your balance owned should you terminate employment; it is also specific to the contribution source.

---

4




Message Center

Review this section for timely news and information. This section may include changes to your statement.

---

5




Summary by Source

Provides periodic summary by source, including contributions for the reporting period, year-to-date, and an ending balance.

6




Loan Summary for the Period

This section will appear if you have an outstanding balance.

---

7




Account Summary By Fund

Summary of activity by fund for the reporting period.